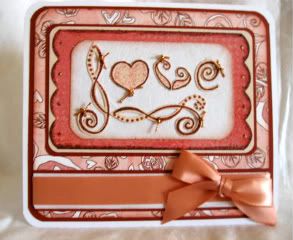 Carte créée pour le challenge de janvier des DT de PCS de Janna sur Paper Craft Planet.
Je réalise qu j'ai mal interprèté le défi!!!!
Je pensais qu'on devait épeller le mot LOVE avec des étampes, des brads, rubans etc.. Je pensais avoir réussi le défi le défi en utilisant seulement des étampes PCS.
Pouvez-vous devinez lesquelles?
L= Flourishes
0= ballons de Kiki Kitty
V= Feuille de Doodle Garden
E= branche de Limitless limb
Mais ce n'était pas ce que nous devions faire!!!
Ma carte n'est pas un bon exemple du challenge!!
Mais plutôt...
L= layer, Lily...
O= oval, orange..
V= violet..
E= embellissements...

papier: Chatterbox
étampes: Pink Cat Studio
Voici les détails du challenge:
LOVE My Pink Cat Stamps – DT Challenge
hosted by Janna Hull
Challenge Description:
Since Valentine's Day is coming up fast, I have a LOVE themed Challenge for you! But this isn't any old love themed challenge, this is a special one! My challenge for you is to create a card or project with at least four elements (you can have more if you would like), but four of your elements have to spell LOVE. For example, you can use Layers, Ovals, Violet, and Embellishments; see spells love. Or you could use Lily, Owls, Very pretty sequins and Emerald brads. Spells love. The possibilities are endless and yes, V can stand for very! Just remember that four of your elements must spell LOVE. Have Fun, can't wait to see what you come up with!
Date the challenge ends:
Tuesday February 10th, 5 pm EST
Requirements:
A Pink Cat Studio stamp must be used as the main stamp on the card or project. It is okay to use stamps from other companies as well. Your entry can be a card or any type of 3D project.
To be eligible for the prize you must upload your card before the deadline to your PaperCraftPlanet gallery and include the tag PCSDTC1. You may enter only 1 project for this challenge.
If you have questions about this challenge, please post them in the challenge discussion thread in the Pink Cat Studio group on Paper Craft Planet. Here is a link to the group: http://www.papercraftplanet.com/group/pinkcatstudiolilyandbillylovers
Prize:
On February 11th, a winner will be chosen by a random draw from all of the challenge participants. The winner will receive a grab bag of Pink Cat Studio stamps. The winner will be announced in the PCP challenge discussion thread and on the Pink Cat Studio blog. Some cards from the challenge will be displayed on the PCS blog and all entries will go into the PCP gallery.